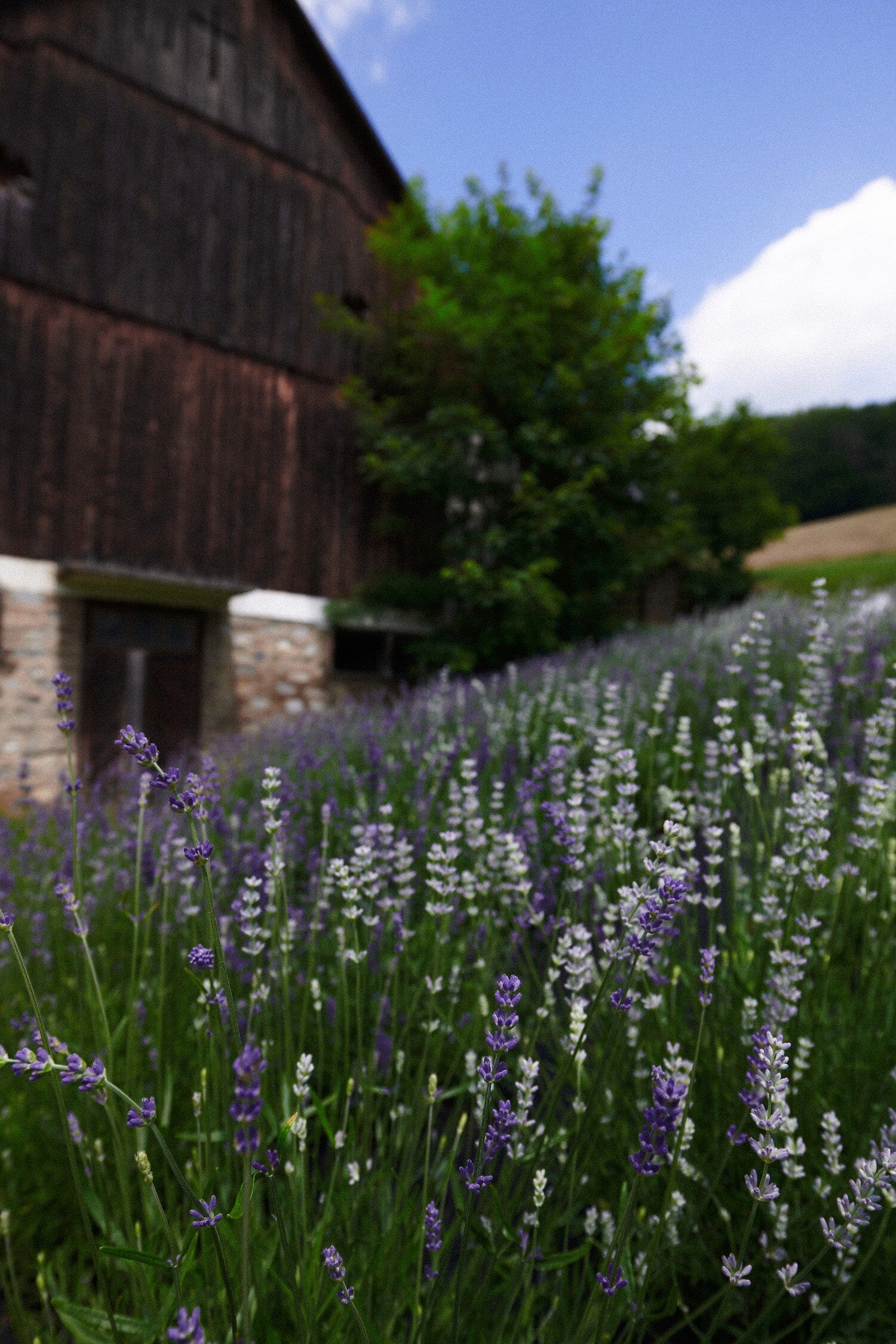 When and how do you harvest lavender?
With our 6,000 lavender plants, we have been able to gain a lot of experience not only with planting , but also with harvesting and drying over the past two years. Regardless of whether you admire your lavender on the balcony, in the garden or, like us, in the field, the same basic rules always apply.
What do you need:

Cutting tools (scissors, secateurs, small hedge trimmers)

Space for hanging or distributing the plants. This should be dark, dry and ventilated
A good reminder is the Dittel formula for the lavender cut.
Because in the spring, as soon as there is no longer any danger of frosty nights, you should shorten ⅔ of the plant without cutting into the woody part. This pruning protects the lavender, i.e. a semi-shrub, from becoming woody and ensures that the plant has space and strength to grow back vigorously.
Lavender usually reaches its full bloom between July and August. The best moment to harvest is just before full bloom. You can easily recognize this moment when the first buds are already blooming, but buds are still closed on the same plant. This is when the lavender contains most of the essential ingredients. To harvest, cut off about ⅓ of the plant or 10 cm below the bottom flower.
It is best to cut the lavender on dry days & avoid the morning hours with early dew. This will protect the lavender from mold as it dries.
dry
After cutting the lavender, bring it to a dry, dark place that is well ventilated. You can tie the lavender stalks into small bunches and hang them upside down, or spread them out on a piece of cardboard that you have previously provided with a few air holes. Depending on how it is stored, the lavender is dry in 2-3 days or a few weeks. You can tell by the fact that the blossoms can be rubbed off very easily - almost by themselves. If you want to store the dried flowers, it is best to fill them in airtight containers (e.g. jam jars) and store them in a dry and dark place.
For example, we use our lavender blossoms for our hand-sewn lavender bags .
If you have any further questions about your lavender harvest, please send us an email to hello@march.care